Learn what you need, how you want, when you want
As we return to offices and offer long term flexible approaches to working how do we ensure users are getting the most out of the collaboration tools?
Taleka's learning content helps to keep users up to date with rapid improvements as technology evolves to meet the future way of working.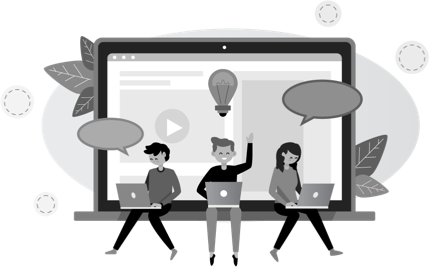 Users who use collaboration tools effectively:
feel more connected, save time, work smarter, contribute more…
Our eLearning modules provide short interactive lessons on collaboration tools, based on real life user experience of the devices and applications. Capturing the working knowledge of our trainers, they provide a powerful way to accommodate customers with self-service, on demand, end user training.
Content can be fully branded either as a vanilla product for our Partners, or customised for a customer's specific requirements.
The content is available in English, Chinese, Danish, Dutch, French, German, Italian, Japanese, Korean, Polish, Portuguese, Russian, Spanish and Swedish. Other languages can be developed as required.
Learn how to use video devices while you're in the room!
Bite-sized "how to" videos on the use of the video devices which can be displayed on-demand, right when the user needs the info.
Content can be accessed in a number of ways, ensuring users can find the information they need in a matter of seconds, and concentrate on their meeting.
User journey videos
Short videos which bring business use cases "to life" and demonstrate the relevance of adopting the technology for each specific customer, using customer personas.
Marketing of real life uses of collaboration tools.
Tailored message for each customer.
Up to 3 minutes duration to grab attention.
Available in multiple languages.
Focus on "Why" tools will improve experience and performance.
Engage users who can then see how an element of technology can impact their working life.