Supporting connected healthcare
Keeping patients connected with their family has become challenging
There is no equal substitute for being able to offer physical comfort to a loved one who is critically ill or dying. However, when visitation in person is not possible, due to immune vulnerability as well as distance and overseas isolation of close family members, HowRU can provide open and flexible virtual visiting that aligns with patient-family-centred care.
Staying connected is known to improve patient outcomes and reduce the psychological impact of separation on families, patients and staff. Multiple different consumer solutions are hard for healthcare staff to manage and often not secure or private enough for patient privacy rules.
HowRU ensures patient and family privacy, dignity, and security. It facilitates an open and flexible line of communication that can be adapted to the needs of each individual patient and family. HowRU is a tailored and supported system that is simple to use, requires no special technical expertise, and places minimal additional workload upon ICU staff.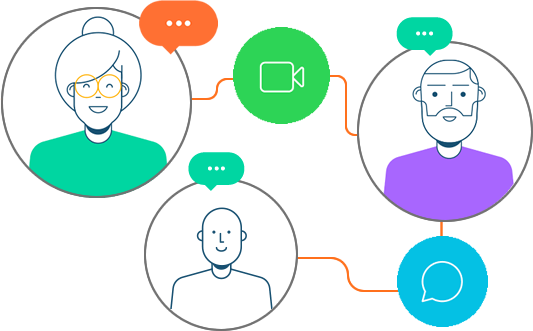 Features and Benefits
Friends and family can connect with patients using video calling, chat, messaging and photo sharing.
Secure and encrypted service providing a "patient/family space".
Staff can very quickly and easily register a patient for HowRU using an automated process.
Simple experience to set up and use, for both patient side and family side from any device (Mac, Windows, iOS, Android).
Family members can download the Webex app free of charge to join the patient's secure HowRU service and invite other family members they wish to include.
Can be independent from any existing video or collaboration solution.
See HowRU in action
As a global leader in providing adoption services for digital technologies, identifying use cases and developing simplified workflows, Taleka can assist Hospitals and AgedCare Facilities with implimenting successful family connection services.
We work directly with staff long after initial deployment to increase adoption for all of those engaged and involved in the service.
Our human approach of "people first" will ensure that the service is successful in your hospital or facility by a focus in ensuring the most seamless customer experience is achieved for Staff, Patients and Family.
Our experienced healthcare team of consultants and technology adoption specialists will engage with the key staff to understand your unique current patient care workflows and needs and how the family connect service integrates with these.
We will take care of delivering program management, design and customise staff communications, create specific educational material including videos and patient / family guides, develop customised training for key frontline staff and social workers (for family assistance) removing this workload from your busy teams.
Our partnership with Citrus Solutions allows us both to provide a holistic offering for this healthcare service by combining their innovation to automate / simplify the experience, technical expertise, focus on quality, security and ongoing support to complement with our human centred approach to technology adoption.
Customer Success
(People, Process and Education)
Configuration, Automation andTechnology supported Citrus Healthcare
Powered by Cisco Webex
About Citrus Health
At Citrus, we are all about not only making technology simple to use but also ensuring that our services are flexible to adapt with the ever changing business landscape.
This principle has been core in the development of HowRU by how we collaborated with our customers and partners in developing this service.
Our heritage has been as an ICT service provider, so we understand what it takes to make a service like HowRU a success for both the Patients/Family and the Healthcare professionals, with the focus on simplicity of use and flexibility of deployment all as a full turnkey service.
Request a demo or further information on HowRU
Andrea West
Healthcare Lead Virtual Visiting
andrea.west@taleka.com